Deck Builders Broadlands Colorado
Are you in need of someone to build a brand new deck in Broadlands? You've come to THE RIGHT PLACE! If your deck is in dire need of some TLC, hiring a reputable deck builder is your best bet. Want to take your gatherings outside? A deck is the answer! A deck can make your outdoor dreams come true.
Don't settle for second best when it comes to your outdoor living space - hire the experts at Broomfield Deck Builders and get exactly what you've been dreaming of! Not just anybody can build a quality deck - it takes training and expertise that our team of builders possess. When it comes to creating beautiful and functional outdoor living spaces, our team of experts knows exactly what to do!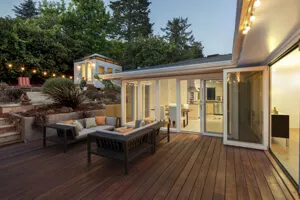 Let us create a custom deck in Broadlands
Deck services in Broadlands you can count on
Custom Deck services in Broadlands, Colorado
There's more to building an outdoor living space than meets the eye. If you want a deck that's both beautiful and functional, hiring a skilled contractor is the way to go.
When you work with a professional deck builder, you can create a unique and stylish outdoor living space that perfectly fits your needs. You want your deck to stand the test of time, which is why it's important to get it right from the start. As a result, custom decks almost always need the talents of a skilled constructor.
Deck Railings and Lighting
Don't forget the specifics! If you're looking for a design that's one-of-a-kind, adding custom features like railings and lighting is the way to go. When you're planning your dream deck, there are a lot of things to consider - from the shape of the boards to the type of lighting you want.
Wood Decks in Broadlands Broadlands, CO
Wood decks are a popular choice for homeowners because of their natural appearance. The choice of wood that you pick is vital to its durability and preservation. Pressure treated lumber is a popular and cost-effective option. Fir is a denser wood, which makes it more durable than other types of wood, as is often used as pressure-treated lumber.
The process of pressure-treating wood involves using anti-rot components and pesticides. Its original hue is a brownish-green, though you may paint or stain the boards to make them more appealing.
There are a variety of different woods you can use for your deck. Here are some of the most popular options:
Mahogany
Ipé
Tigerwood
Redwood
Western Red Cedar
Pressure-treated wood is often less expensive, but it's more likely to warp, crack, or split. Wooden decks are a beautiful addition to any home, but they do require more work in terms of maintenance.
---
If you want your deck to be made of natural timber, use woods that are less likely to warp or crack, like redwood or cedar. These decks are a beautiful addition to any home and are resistant to damage from the weather. If you're looking for a more affordable option, cedar is a good choice. However, decks made of natural wood cost significantly more than cured lumber.
Composite Decks in Broadlands
Sustainable decks to withstand the test of time
Composite decks are a mix of recycled materials, usually plastic and wood fibers. Composite decks do not rot or decay. Even more, composite materials do not need to be sanded, stained, or sealed. In addition, they will not warp or splinter.
Additionally, you can avoid ongoing maintenance costs typically associated with wood decks by going with composite material instead. It is a great choice for families with kids and pets.
COMPOSITE
TimberTech
TimberTech Decks provide an alternative that is comparably stylish to wood-decking. This is among the top composite decking material that we can suggest to our Broadlands, CO friends. You can design a one-of-a-kind deck with multi-width decking styles.
Having warranties up to 50 years, this deck will stand the test of time and provide a durable outdoor surface for your family to enjoy for many years. We love TimberTech because they not only provide durability, but also many lighting solutions that are integrated into the design of the deck - making it a total win.
Trex Decking in Broadlands
Decks that make a stunning impression
Trex decking is tougher and more robust than plastic alternatives due to its unique combination of wood fibers, sawdust, and recycled plastic. Trex is a good choice because it doesn't scratch or scuff easily. Another benefit of Trex is that it doesn't stain easily, so you won't have to worry about re-sealing or repainting your deck. Trex decking is impervious to fading, discoloration, mildew, and mold.
Since this surface is sturdy, minimal maintenance is required. If you wait too long, stains from beverages, leftover food, pollen, dirt and other contaminants could occur.
Trex is termite resistant and does not require painting or staining. If you're looking for a green decking solution, Trex might be the right choice for you. Trex contains 95% recycled materials. For those who are looking for a more sustainable option, Trex is a good choice.
Trex decking, priced at $9-$16 per square foot, has a 25-Year Residential Fade and Stain Warranty. This is a factor in determining the longevity of your deck.
PVC
Fiberon
Fiberon is another great choice when it comes to composite decking. The company offers many varieties of decking. The PE composite decking offered by this company is composed of plastic film and wood fibers, resulting in a strong and resilient product.
Made without wood particles, PVC decking is a durable product. PVC decking is perfect for docks or pool decks because it can withstand more moisture. PVC decking boards won't swell when submerged in water, making it an excellent choice. Another plus of PVC decking is that it has exceptional slip-resistance, even in wet conditions.
Some of the best features of Fiberon decks are their durability and eco-friendliness - making them a great choice for your next home improvement project! With its lack of splinters and resistance to mold, Fiberon is the perfect material for anyone who has kids or pets. You can be confident in your investment with Fiberon, as it offers warranties up to 50 years.
About our Broadlands, Colorado Deck Company
Situated in Broadlands, we are a locally owned deck-building company. A better outdoor experience is something we specialize in – see for yourself! Designing a deck is an art form, and we are the masters. Make sure your next deck is designed by us for optimum function and safety.
What we aim to do is give you high quality goods and services at a reasonable cost. We manage the whole job from the first consultation to the final clean-up. As a licensed, insured, and bonded contractor, we can handle any circumstance. We have constructed hundreds of custom projects for our happy customers.
What makes us unique? What sets us apart is our commitment to making sure you're completely satisfied with your purchase. What is our defining characteristic? We always put our customers first.
Frequently Asked Questions
Get answers about our products and more here.
Interested In Building A Deck In Broadlands? Let Us Help You Today!
Would You Like to Discuss Your Project? We value our potential customers and want to ensure that you have the best experience possible. Please don't hesitate to reach out if you need anything! Get started today by giving us a call, and we'll help you plan out your dream deck.
Don't wait any longer to get the deck of your dreams in Broadlands. Call us today at (720) 807-3940, and let's get started!